I'm happy to announce that The Sandbox of God 1.5 is now available to download! This is a huge update to the most popular game I've ever made. Can you believe it's been five years since I made that game? Crazyness.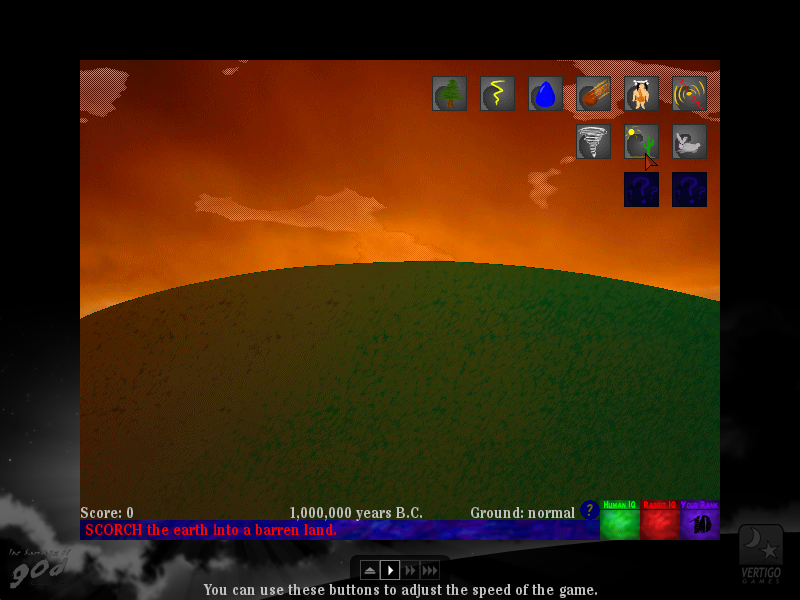 Anyways, here's just a few things that you'll find in this brand new version of SOG:

-Updated Engine: Upgraded from the Game Maker 5 engine to the brand new Game Maker 8 engine, the Sandbox of God 1.5 benefits from faster processing and updated window scaling, which doesn't resize your resolution to 640×480 as it did before. The game now runs in a windowed 800×600 resolution, with the option to fill the remaining space in black (basically it's fillscreen instead of the scaling effect I've used in all my most current games that has led to some blurry results).

-Updated Music/Sound: Brand new music and sound effects have replaced the old copyrighted MP3 files and compressed WAV. The game sounds clearer, better, more balanced, and uses less memory. It solves the problem that some users had with missing sound/music, which was a result of the MP3s used (the game is now nearly entirely OGG based).

-New News/Updates Page: GM8 has now allowed for new web-based content within the game window, which has allowed me to create an all new section of my site called Vertigo Games Updates. These pages will check to see if the game you're playing is the most current game available, gives some tips and suggestions, allows users to comment on the page and/or easily report bugs, allow sell-through buttons for easier upgrades, and will make it easier to download content for games I make in the future.

-New Save System: This is a much more reliable save system that allows patches/updates without losing any progress, unlike the original game.

-New Play Speeds: You can now fast forward the game and play at 2x or 3x the original speed! It also makes it easier to quit the game via the eject button.

-Various Improvements: Fixed a few grammar issues and a few bugs in the original game.

Enjoy everyone!