That's right, four brand new and completely FREE foods are now available for the iPad version of Cook, Serve, Delicious! (PC/Mac coming at a later date).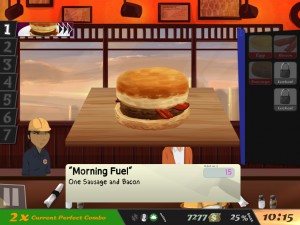 If there's one thing that Cook, Serve, Delicious was lacking, it was a proper breakfast menu. That's all about to change with this new update, which allows you to serve four breakfast items all day, with a boost of buzz in the early morning hours! Choose from Coffee, Breakfast Sandwich, Pancakes and Hash Browns, all upgradeable and available for restaurants one star and up.




The new Breakfast Booster is in effect with these foods, which gives you a 5% buzz for each breakfast item you have for the early morning hours (and Coffee having a bonus Staple booster!). There's also a few fan requested additions in the update, including a way to turn off the Rush Hour text flash during the day.
I have one more major update after this one to do for CSD, then I'll be attempting an iPhone port, and then finally work on PC/Mac patches. So yeah, I'm kinda slammed at the moment. Whew. Anyways I hope you enjoy the update!