Hooray, the 1.1 update for Cook, Serve, Delicious (iPad) is now available! To celebrate, I've cut the price down to $2.99 for a limited time only. Here's what you'll find in the update (all absolutely FREE):

Two new foods- Sushi and Fried Rice


The biggest addition to this update, these two dishes will bring a whole new taste to your two star and above restaurant! First off, the Sushi. With over thirty-five recipes, it's one of the more complex foods you'll come across, as the customer likes to tailor their own dishes with eight pieces of Sushi to choose from. From the delicious Ebi Sushi to the exotic looking Roe Sushi, this five star food will be quite a delight on anyone's menu!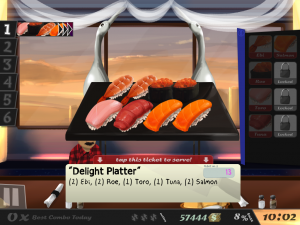 Also added is one of my personal real life eatin' favorites, the delicious Fried Rice food. This four star food is one that pleases a lot of palettes, with it's variety of different flavors and combinations. Try a hearty white rice combo with vegetables, or go for the full fried rice special. Hey, you're sure to find something to like in the twenty recipes this food can offer.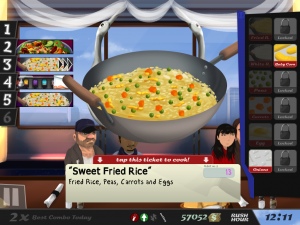 Both of these foods introduce two new detractors into the game…Fast Cooker and Perfection. You can probably guess what those might be!


Gameplay Balances & Improved UI
With this update comes a few UI improvements. I thought I'd redo some of the icons that I liked the least, and got a tighter shot of some of the foods to make sure Sara's art comes through nicely.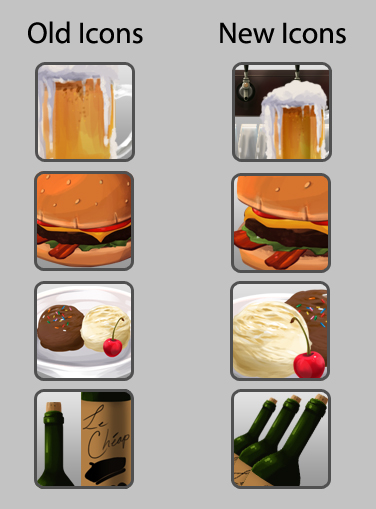 I've also adjusted the difficulty of the American and Diner challenges of Iron Cook, as I know that's been giving a few problems with a few players. Also added was an option to change the gender preference for Cook4Luv (found in the options menu.) Finally, I've added the Specialty Menu to both Buy Foods and Upgrades menus and plan to add eight more foods in the coming weeks. Some of the foods will definitely surprise you!



Bug Fixes
Among some of the bugs fixed in this update include:
-Added more failsafes for certain foods to address the "disappearing foods" bug.
-Corrected a bug that counted 8/7 catering jobs completed.
-Added a failsafe that ensures the Love Chef achievement is earned.
-Improved button functionality to ensure that glitches don't occur when prepping food/chores at lightning speed.
-Other small fixes.



I originally planned to have some new Iron Cook Kitchen challenges for this update, but I needed to get this update out as fast as possible as I needed to address the above bugs, since they prevented some users from progressing in the game. My goal is to have the new challenges in a future update.
More updates are coming in Feb., so please spread the word about Cook, Serve, Delicious! and update today!
(Note: all iPad updates will make their way as one big patch to the PC/Mac versions in the coming months.)