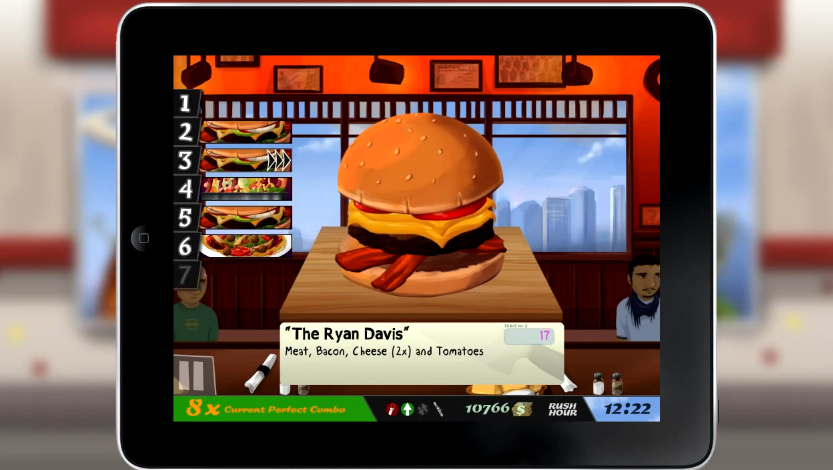 Cook, Serve, Delicious is now available to download on the iPad App Store, and is 40% off until January 2nd! (Note: this app is only available for iPad 2, Mini, 3 and 4)

Cook, Serve, Delicious! made for a great desktop game, but I always felt that a tablet experience would feel even better. I took a lot of care in bringing the game over, and redesigned the entire ingredient placing process to make it touch-friendly. I also have a lot of content update plans coming in January and beyond, stuff that I can't wait to reveal.

You can find a more detailed breakdown of the game in a previous blog post, which includes Game Center details. A free version with a limited number of days to play will be out early next year, as well as the first batch of free content updates!

Speaking of updates, a patch will be out for the iPad version by next week which will have the following fixes:
Memory optimization to help memory related crashes.
Added sound/music options to pause and save slot menus.
Increased swipe zones for the trash chore.
Decreased plates to be washed by 1.
Fixed a bug that did not properly award the player the final restaurant upgrade. If you are stuck on the final five star restaurant and have completed the checklist, simply play another day and the final upgrade will register properly.
Fixed a few minor bugs.
Now to address some questions:
Will you be supporting the iPad 1 in the future?
Sadly it doesn't look like it. The iPad 1 has half the memory of all other iPads, and with the sheer amount of graphical assets the game has (over 1,100 sprites) it just can't be loaded into the iPad's memory. It's not for lack of trying- I bought an iPad 1 last week and have been trying to get it to run on there since- but it just doesn't look like it's going to happen for CSD. I'm very sorry, and I hope to support the iPad 1 with my next iOS game.
What about iPhones? And if so, will it be a universal app?
iPhones have the same memory issues as the iPad 1, however theoretically I could release a version for iPhone 4S and iPod Touch 5 if Game Maker supports limiting phones in that sense. Or what I might do is create a new version altogether- a stripped down "pocket edition"- but I would rather either bring the full experience or none to the iPhone/iPod Touch. Again, going forward I'll have a better understanding of how to plan ahead in making a game cross platform- CSD started as a PC only game, and I've been adapting ever since. Right now I'm focused on the new content updates for the iPad version, and then I'll take a look at getting it on phones.
Android support?
That will come with the iPhone support, as the resolution for the iPhone is the universal resolution I'll be using for Android. It also depends how well the iPad version does, as I don't want to port over a game that's not selling too well- I gotta get some funds goin'!
iCloud support?
Not supported by Game Maker Studio at the moment. Once it is, I will definitely take a look at it.
Are there IAPs in the game?
Not a single one! You get the full game when you buy it. There may be IAPs in the future, but it will be for major game content releases that make sense. I'm not interested in infusing consumable IAPs with Cook, Serve, Delicious (like buying virtual dollars with real dollars) as it ruins the gameplay dynamics. I'm not against consumable IAPs, I just don't think they make sense here.
What do you mean, "Content Updates?"
New challenges, new settings, perhaps even a new…well, you'll see. They'll roll out in January and beyond.
Thanks everyone, and please rate the game in the App Store if you enjoyed it! I need those votes! 😀 Here's the official iPad trailer: