Well the week finally continues; sorry about the delay folks. So here's day three of the week of ShellBlast HD! Woo!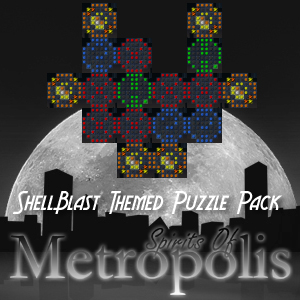 This ShellBlast-themed pack for Spirits of Metropolis has six puzzles, and can be downloaded right here. Enjoy!

ShellBlast HD makes its trailer debut on GameTrailers tomorrow, and I'll be posting more gameplay vids, wallpapers, giveaways, and another level pack (this time for ShellBlast PC) all this week. I might even give away a super awesome 360-themed item. One of the giveaways will be on Twitter, so follow me at chubigans for the details later this week. Woo!