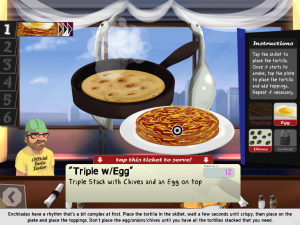 Love your menu but wish there were just a few more dishes to accommodate your high end clientele? Well this update is for you, my friend. Introducing the four new foods coming to Cook, Serve, Delicious for iPad! (should be out early next week)




Yes, there are now three new foods that have the all new Rich Dish booster, which boosts buzz by 5% just for being on your menu, provided your restaurant is three stars and above. Those three foods are: Lobster, which is served with an array of sauces (five star upgradeable), Bananas Foster, which is a delicious dessert that can be set on fire for the amusement of your customers (four star upgradeable), and Shish Kabob, the best food on a stick since the corndog (five star upgradeable). I've also included a personal favorite of mine, the Stacked Enchiladas (three star upgradeable). Most have had regular Enchiladas, but the stacked version is quite a treat and isn't done much outside of West Texas/Mexico.
I've also included some bug fixes and a few additional features into this patch, and it should be arriving early next week! I'll update this post as soon as it's available.
***
So, earlier this week I've started work on the iPhone and Android port of CSD, and it's going well. I hope to have that done within three weeks or so. Then I'll be porting the content over to PC/Mac, and will also take a look at an Ubuntu port as Game Maker Studio just announced the export to Linux option the other day. Once that's done, I'm off to make a new project! Really can't wait to start something new, hah. More news soon!