Who's ready to win some free shwag? Well then, it's time to kick off the Contest of Awesome!

Before you read the rest, start playing this game show theme music for maximum authenticity:

This text will be replaced by the flash music player.
Now, in celebration for our first Xbox 360 title, the winner of this contest gets a free new awesome Xbox 360-themed hat with your choice of either a Gears of War 2 or Halo 3 hat! Plus an awesome Xbox 360 bumper sticker that I totally didn't just find in my room just now. Hooray! The runner up gets whatever hat the winner doesn't choose, which is better than no hat at all, I must say.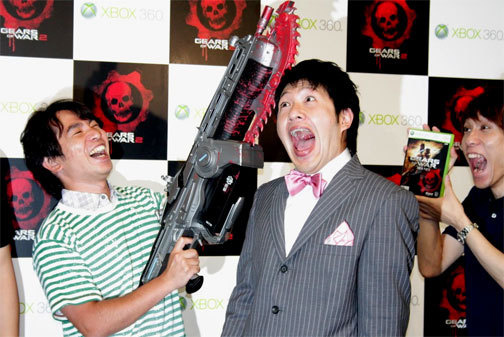 So how do you enter this amazingly awesome contest? First, sign up for
Twitter
. Then follow my tweet page
here
. After you do that, simply copy and paste this message in your twitter (make sure it is NOT a private message):
@chubigans I want to win your #Contest of Awesome!
Bam! You just entered. Now just sit back and wait till Sept. 10th and I'll announce the random lucky winners. Hooray!
Good luck!